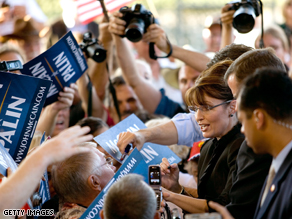 A self-titled 'hockey-mom' is getting all the attention.
Politics is a popularity contest and if you are keeping count on the blogs, V.P. candidate Governor Sarah Palin is the belle of the ball. On a single page of an ABC news blog, Palin's name appears 24 times, McCain's twice, Biden's once and Barack obama's– not at all. It's not scientific, but it's indicative of something bizarre.
And she's a big hit offline too.
When Palin and her running-mate John McCain– he's the one running for president by the way– appear together, people cheer for her. Then when he speaks they begin to file out. Ouch! When they campaign separately, her crowds dwarf his. What's wrong with this picture?
To read more and contribute to the Cafferty File discussion click here