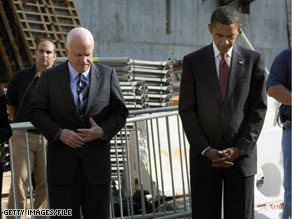 Sens. McCain and Obama put politics aside recently to come together and observe the 7th anniversary of the 9/11 attacks at Ground Zero.
(CNN) – The race for the White House remains virtually neck-and-neck, according to CNN's latest poll of polls.
For the first time since September 7, Sen. Barack Obama is ahead of Sen. John McCain in CNN's national poll of polls. Obama has the support of 46 percent of registered voters compared to 45 percent for McCain, while nine percent are unsure about their choice for president. In Tuesday's CNN poll of polls, the two men were tied at 46 percent each.
"The presidential race has been a virtual dead heat since the end of the conventions," noted CNN Senior Political Researcher Alan Silverleib. "At the moment, the McCain and Obama campaigns' advertising strategies appear to be cancelling each other out. What we can't yet measure, however, is the impact of the crisis on Wall Street. Economic issues favor Obama, but voters tend to support McCain more in terms of overall leadership and crisis management. The bottom line is that, with 48 days to go, this race is a toss-up."
Wednesday's poll of polls is comprised of the following four national general election surveys: IPSOS-McClatchy (September 11-15), Gallup (September 14-16), Diageo/Hotline (September 14-16), and American Research Group (September 13-15). The poll of polls does not have a sampling error.