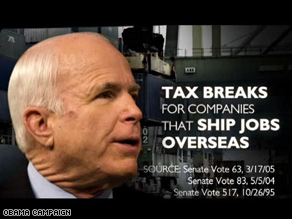 Another new Obama ad hits McCain on jobs.
(CNN) – Barack Obama's campaign has released another negative ad that accuses John McCain of failing to protect American jobs – its second TV spot in the past few weeks aimed at working-class Pennsylvanians as the nation's economic crisis continues.
The tough new ad spotlights the closing of a Corning Glass factory in State College, accusing the Republican presidential nominee of being partly responsible for the loss of 1,100 jobs there four years ago.
"Corning shuts down its plant in Pennsylvania," says the announcer in the 30-second spot. "Hundreds lose their jobs. Then the workers are rehired to disassemble the plant. And ship the equipment to China.
"Washington sold them out. With the help of people like John McCain. He supported tax breaks for companies that ship jobs overseas. And voted against cracking down on China for unfair trade practices. We can't afford more of the same."
'Revitalize' is the latest Obama ad to hit McCain on jobs. They released a spot several weeks ago that charged the Arizona senator with failing to protect U.S. motorcycle manufacturing jobs that hit the airwaves as he visited York, Pennsylvania, home of the Harley-Davidson motorcycle factory.
Earlier: Another Obama Pennsylvania spot accuses McCain of failing to protect U.S. jobs
The campaign has also run radio and television ads that said the presumptive Republican nominee and his campaign manager Rick Davis were partly responsible for the potential loss of thousands of Ohio jobs, timed to coincide with his trip to the area where shipping giant DHL may make those cuts, and a similar ad about the auto industry when McCain visited Michigan.
The Obama campaign said the ad would air in Pennsylvania and in "key" states nationwide.
UPDATE: The Republican National Committee response pointed to Obama's spring loss to Hillary Clinton in the Pennsylvania primary. "Barack Obama has no record of reforming government and does not know how to fix the current crisis, so he's going on the attack," said Republican National Committee spokesman Alex Conant. "Pennsylvanians rejected Obama's name calling and false attacks this spring, and they'll do it again this fall."