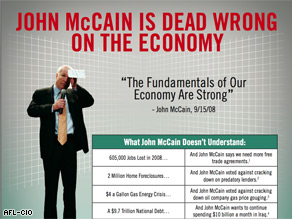 The AFL-CIO will send a two page mailer out Monday.
(CNN)—In the face of growing economic concerns, the AFL-CIO will being sending out a new mailer Monday taking direct aim at Sen. John McCain's recent comment that the fundamentals of the U.S. economy are "strong."
"John McCain says the economy is fundamentally strong," the mailer reads. "John McCain is fundamentally wrong."
McCain made the comments at a campaign event in Florida hours after Lehman Brothers filed for bankruptcy last Monday.
"You know, there's been tremendous turmoil in our financial markets and Wall Street," McCain said in Jacksonville. "Our economy, I think, still, the fundamentals of our economy are strong, but these are very, very difficult times."
The Obama campaign has used the comment to attack the Republican nominee, calling him "disturbingly out of touch."
The mailer, which the AFL-CIO calls their "broadest yet," is set to reach more than one million union households in the swing states of Michigan, Ohio, Pennsylvania, and Wisconsin.
The mailer will coincide with an e-mail reaching 500,000 people, phone calls and door to door visits from volunteers.