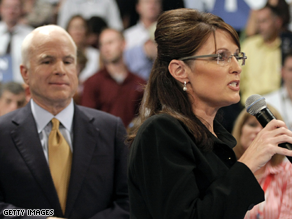 Palin touted her energy resume on Thursday.
GREEN BAY, Wisconsin (CNN) - Sarah Palin disparaged Barack Obama Thursday night for not having to deal with oil and natural gas issues in his home state of Illinois.
Palin accused Obama of siding with special interests "time and time again" instead of standing up for working Americans struggling with high fuel costs.
"And maybe if he'd been the governor of an energy-rich state, he'd get it," she said at a rally in Green Bay, held just down the street from fabled Lambeau Field. "And maybe, maybe if he'd been on the front lines of securing our nation's energy independence, then he'd understand."
McCain's advisers have stressed Palin's experience with oil and gas issues in her home state. The Alaska governor touted her resume on Thursday.
"As governor of Alaska, I've overseen a very large portion of our U.S. domestic production of oil, and through a heck of a lot of competition and hard work, I've secured agreements to build a nearly $40 billion natural gas pipeline to get our clean, green natural gas down to hungry markets like here in Wisconsin," she said. "I know what works, and I know that America needs this."
In making her case, Palin did not note, as she had previously, that Alaska produces 20 percent of the country's energy supply. Fact-checks in recent days have shown that Alaska provides about 14 percent of oil from American wells, and government statistics show that Alaska's total energy production is 3.5 percent of the country's total output.
Her running mate John McCain's home state of Arizona, like Illinois, is also not on the front lines of the nation's oil and gas production. Arizona relies on interstate pipelines for natural gas deliveries, and according to the Energy Information Administration, the state's annual crude oil production is "minimal."