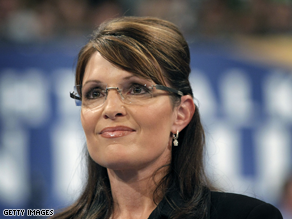 Palin will sit down with Karzai
ORLANDO, Florida (CNN) - CNN confirms that Alaska Gov. Sarah Palin will meet with Afghan President Hamid Karzai next week in New York during the opening meeting of the United Nations General Assembly.
The meeting is part of a larger effort by the McCain campaign to bolster Palin's foreign policy credentials in the face of criticism from Democrats questioning her preparedness for the Vice Presidency. Though her running mate is considered a leading voice on military issues and foreign affairs, Palin herself has only traveled abroad to Kuwait, Germany, Canada and, briefly, to an Iraqi border crossing.
According to the Washington Post, which first reported the story, the Karzai meeting was initiated by McCain campaign officials.
At a town-hall meeting in Michigan on Wednesday, Palin expressed confidence in her foreign policy acumen.
"But as for foreign policy, you know, I think that I am prepared, and I know that on January 20th, if we are so blessed as to be sworn into office as your president and vice president, certainly we'll be ready," she told a questioner. "I'll be ready."
Palin travels to New York on Monday following a joint campaign appearance with McCain in Media, Pennsylvania.
She is spending Saturday in Orlando in closed meetings with staff. Willow, Piper and Trig Palin were flown into Florida from Alaska to spend some down time with their parents, who have been traveling together on the campaign trail.
On Sunday, Palin will hold an afternoon solo rally at The Villages, a sprawling retirement community here.
UPDATE: A campaign aide tells CNN Palin is also slated to meet with former Secretary of State Henry Kissinger and Colombian President Alvaro Uribe on Tuesday.