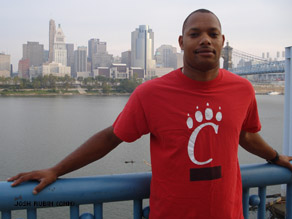 Will Jackson fears that politics has gotten too dirty.
ABOARD THE ELECTION EXPRESS IN ELIZABETHTOWN, Kentucky (CNN) - We're heading south toward Friday's debate in Oxford, Mississippi, but as the country rolls by the windows of the bus, I keep hearing the voice of a man named Will Jackson.
He and I spoke just before we loaded the bus to leave the Cincinnati/Covington area. He's 31; he had at dawn dropped his brother at the airport in Dayton, 67 miles away (it was worth the drive for his brother to get a a less expensive ticket at the more distant and inconvenient airport than to fly out of the Cincinnati/Covington one and pay a higher price), and now he had driven the 67 miles back and was getting ready to go to work.
He said that, in theory, he likes the idea of politics, and, in theory, he would consider the idea of running for a local office someday himself.
But he won't.
And the reason is a lesson he said he has learned from this year's presidential campaign.
"I don't believe in saying bad things about other people," he said, as if nothing more had to be explained.
He said he had watched the negative news about both candidates– the news generated by the campaign organizations themselves, and the news generated by the press.
"Digging up dirt, trying to spread it all over the world. . .I don't think I could do that," he said.
He said he's afraid that, in order to win, he would have to become a person he didn't recognize.
"I think I'm known as a good guy," he said. "I hope I'm known as a person who helps other people out. I wouldn't want that to change."
He understands why the presidential campaign has devolved into where it finds itself now:
"You have to fight fire with fire, I suppose," he said.
But it's not for him.
"It wouldn't be worth it," he said.