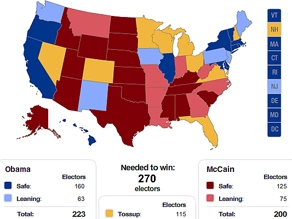 Could CNN's electoral map shift Wednesday? Check back at 4 pm for the answer.
(CNN) - Will the Democrats get Rocky Mountain high in Colorado?
The answer could determine who wins the race for the White House.
It's no coincidence Democrats decided to hold last month's presidential nominating convention in Denver. Colorado hasn't voted for the Democrats in a presidential election since 1992. But President Bush won the state by only 5 points over Senator John Kerry in 2004, the Democrats made major gains at the state level in the past two elections - and in this presidential election, the Obama campaign hopes to turn the state from red to blue.
Related: CNN's John King on Colorado's Latino voters - a key swing vote this fall
A state poll out earlier this week by Quinnipiac University put Barack Obama up four points over Republican rival John McCain. Today at 4 pm ET, we'll get a better sense of where the race in Colorado stands, as CNN, Time Magazine and the Opinion Research Corporation release brand new numbers on the race for the White House in the state - and CNN updates its Electoral Map.
Check out CNN's current electoral map
The poll will also include new state surveys on the battle for the presidency in Montana, Michigan, Pennsylvania and West Virginia.