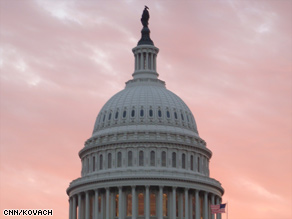 CNN: Debates aim to restart presidential campaigns
Debates are a campaign's restart button. Voters try to erase their preconceptions and examine the candidates face-to-face, equal and unscripted - which is why a challenger, particularly one who's running behind, is eager to have as many debates as possible.
Washington Post: Economic Fears Give Obama Clear Lead Over McCain in Poll
Turmoil in the financial industry and growing pessimism about the economy have altered the shape of the presidential race, giving Democratic nominee Barack Obama the first clear lead of the general-election campaign over Republican John McCain, according to the latest Washington Post-ABC News national poll.
NYT: McCain Aide's Firm Was Paid by Freddie Mac
One of the giant mortgage companies at the heart of the credit crisis paid $15,000 a month from the end of 2005 through last month to a firm owned by Senator John McCain's campaign manager, according to two people with direct knowledge of the arrangement.
CNN: Biden, Obama helped keep 'Bridge to Nowhere' alive
Although Democratic vice presidential candidate Joe Biden routinely mocks his Republican counterpart, Alaska Gov. Sarah Palin, for her onetime support of the infamous "Bridge to Nowhere," Biden and his running mate voted to keep the project alive twice.
CNN RADIO: Palin's staff in stare-down with press corps
It's September–time to vote. Sarah Palin's staff gets in a stare-down with the press corps and loses, sort of. Lisa Desjardins has today's CNN Political Ticker.
Chicago Tribune: Mayor Daley defends brother, blasts McCain ad
Mayor Richard Daley teed off Tuesday on Republican presidential candidate John McCain for including Daley's brother in a negative ad about Barack Obama's Chicago political roots.
Seattle Times: Amid financial crisis, Stevens asks to skip trial
As Congress rushed to stop a meltdown in the U.S. financial market, the Senate's senior Republican told a federal judge Tuesday that he might need to skip out of his corruption trial from time to time this week.
AP: Obama out to flip Indiana to Dems
Democrats typically skip right over reliably Republican Indiana when plotting presidential campaign strategy.Not Barack Obama.
AP: Ads define the day, but have short life
John McCain and Barack Obama are releasing a daily assault of real and barely aired campaign ads at such a fast clip that the resulting blur threatens to drown out their campaign messages.
NYT: McCain Stands By Fiorina
Only last Friday, Senator John McCain was demanding that two former Fannie Mae executives and supporters of Senator Barack Obama, Franklin Raines and James Johnson, give back more than $20 million they each received in golden parachutes from the troubled company.
NYT: Obama Carries Uneven Record as Debater to First Contest With McCain
Senator Barack Obama has shown himself at times to be a great orator. His debating skills, however, have been uneven.
NYT: Conservatives Try New Tack on Campuses
Acknowledging that 20 years and millions of dollars spent loudly and bitterly attacking the liberal leanings of American campuses have failed to make much of a dent in the way undergraduates are educated, some conservatives have decided to try a new strategy.