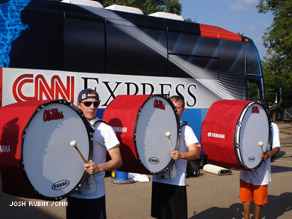 ABOARD THE ELECTION EXPRESS
OXFORD, Mississippi– Tomorrow night's presidential debate at the University of Mississippi, if it happens, is supposed to be a wonderful and memorable moment for the students here– but let's keep things in perspective.
There are memorable moments for college students– and then there are memorable moments.
We heard very loud noises from outside the bus where we're parked on the Ole Miss campus. "Very loud" is an understatement.
We opened the door of the bus– and found the percussion section of the school's marching band, pounding away on their drums and clanging away on their cymbals, just a few feet from us.
I can assure you that this was not their way of welcoming us to the campus. As a matter of fact, they seemed a little annoyed– politely annoyed, if there is such a thing, but annoyed nonetheless.
"It's kind of an inconvenience, having to practice out here in this parking lot," said Chris Patterson, 18, a bass drum player who is a freshman. "We can't get in the Band Hall."
Listen: Pride of the South drum section rehearsal