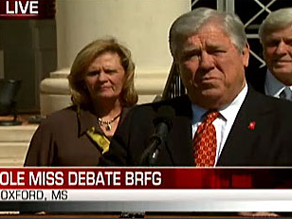 Mississippi Gov. Haley Barbour discusses Friday's debate.
(CNN) - Mississippi Gov. Haley Barbour told reporters Thursday preparations for Friday's debate are going forward as planned.
"I expect there to be a debate tomorrow night and I look forward to it," he said.
John McCain has suggested pushing back the debate if an agreement on the economic bailout has not been reached by Friday morning. Barack Obama has said the debate should occur regardless of whether the bill is passed by that time.