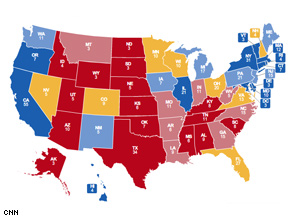 Michigan changes columns in CNN's latest update of the Electoral College Map.
(CNN) — Barack Obama – who gained a small edge in the CNN poll of polls this week – is gaining ground on the CNN Electoral Map as well.
CNN is altering its Electoral Map, shifting Michigan and its 17 electoral votes from tossup to "lean Obama."
With the shift of Michigan, CNN now estimates that if the presidential election were held today, Obama would win 240 electoral votes and John McCain 200. There are 98 electoral votes up for grabs; 270 electoral votes are needed to win the White House.
Check out CNN's latest electoral map
A CNN/Time Magazine/Opinion Research Corporation poll released earlier this week suggested Obama had a 5 point lead among likely voters, 51 percent to 46 percent, and a 7 point lead among the larger sample of registered voters. Obama had a 4 point margin in the last CNN poll in Michigan, conducted at the beginning of September.
Michigan has voted for the Democratic candidate in the last four presidential contests, but Kerry's victory over President Bush in 2004 was by only 3 points.
Still, the economy – an issue where Obama holds a significant edge over McCain in recent surveys - is the driving concern in this industrial state. The Democrat's campaign has sought to pad that advantage, running state-specific ads in Michigan that charge McCain has not done enough to protect the nation's auto industry jobs.
The CNN Electoral Map takes into account a number of factors, including the most recent state polls, voting trends, and campaign ad spending and events in the particular states.
"Historically, state polls have often been leading indicators of national trends," noted CNN Senior Political Researcher Alan Silverleib. "National polls are predominantly made up of respondents from big states like New York, California and Texas where the campaigns are running no advertising at all."
CNN's most recent poll of polls showed the Democratic nominee with a 4 point advantage over his Republican rival. Obama had the support of 47 percent of voters to McCain's 43 percent, with and 10 percent unsure about their choice for president.