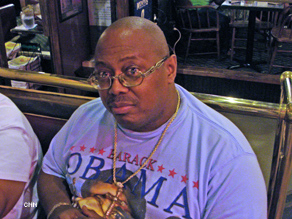 ABOARD THE ELECTION EXPRESS
MEMPHIS, Tennessee (CNN)– There is undoubtedly someone out there somewhere who watched last week's debate in Mississippi between John McCain and Barack Obama and who came away from the debate tossing his or her preferred candidate over the railing, and warmly embracing the candidate he or she previously rejected.
We haven't been able to find that person.
Granted, we haven't been conducting official polls, which have been shifting; we've just been talking with people as we roll across the country in the bus. But for all the effort the Commission on Presidential Debates put into the first 90-minute confrontation last week, everyone with whom we've spoken who watched the debate came away ready to vote for the same candidate he or she liked in the first place.
Click below for a snapshot, from the back room at Marlowe's Ribs, located at 4381 Elvis Presley Boulevard in Memphis, just down the road from the former home of the man in whose honor the street is named.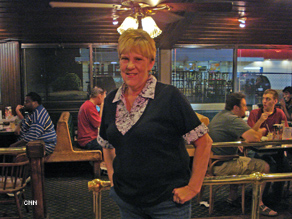 At Marlowe's, customer Sandy Coleman, 60, said that she had watched the Mississippi debate with intense interest.
Who had she intended to vote for before the debate?
"John McCain."
Who does she intend to vote for now that the debate is over?
"John McCain."
Was there anything that could have happened in the debate that would have turned her around?
"Nothing."
Then what was her reason for watching?
"I think I'm like most people," she said. "I think most of the people who are going to vote know exactly who they're going to vote for. I just wanted to watch to see what happened."
She said she had been a lifelong Democrat until seven years ago: "That changed on September 11, 2001. And I don't want to see someone with no experience be in charge of this country."
One more time: Was there anything at all in the debate that could have changed her mind?
"Maybe if McCain had screwed up," she said. "But I knew he wouldn't, and he didn't."
Obama's performance had no chance to sway her?
"No," she said. "I was watching just in case he showed me something. He didn't."
Sitting in a booth not ten feet away from Sandy Coleman in Marlowe's was Thaddeus Matthews, 51, an Obama supporter.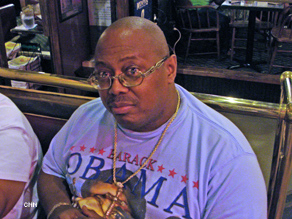 Did he go into the debate expecting to have his existing opinions challenged?
"No, and they weren't," he said. "I saw exactly what I expected. Barack is presidential, he's persuasive, his demeanor is truly impressive."
But why did he invest 90 minutes in watching the debate if he was certain beforehand that it wasn't going to alter his opinion?
"I wanted to hear what John McCain had to say about a number of issues."
And?
"There's always the possibility, I suppose, that I would be impressed and surprised by his answers. But that didn't happen."
And was there anything that Obama could have done to make Thaddeus Matthews worry that he has been supporting the wrong candidate?
"You mean hearing wrong answers from Barack?" he said. "I knew I wouldn't hear wrong answers from him, and I didn't."
So there, sitting in close proximity in the same rib place in Memphis, were two people who saw the same debate and who weren't moved an inch from the diametrically opposed positions they had held going in. As the vice presidential debate is held this week in St. Louis, and then the final two presidential debates are held in Nashville and in Hempstead, New York, we will let you know, as we crisscross the map, if we find someone who the debates jolt out of his or her prior preferences.
But don't wait up.
And may we add, in closing for today, that the sight of Graceland at night, now and always, is a thing of beauty.