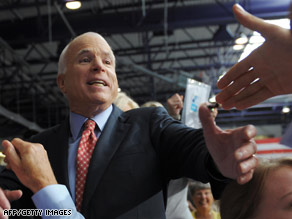 Sen. John McCain slammed Sen. Barack Obama's economic policy at a campaign event in Columbus, Ohio.
(CNN) - Sen. John McCain told voters Monday that Sen. Barack Obama isn't being honest about his tax votes and said the Democrat is "always cheering for higher taxes."
In response, the Obama campaign called McCain's remarks "false attacks" and an "angry diatribe."
Fact Check: Obama's tax record
The economy is the No. 1 issue on the minds of voters, polls show, and both candidates are trying to convince voters that they will do a better job of getting the financial crisis under control.
"Two times, on March 14, 2008, and June 4, 2008, in the Democratic budget resolution, he voted to raise taxes on people making just $42,000 per year. He even said at the time that this vote for higher taxes on the middle class was 'getting our nation's priorities back on track,' " McCain said at a rally in Columbus, Ohio.