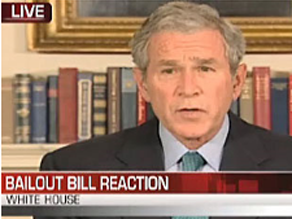 Bush urged Congress to pass a new bill.
WASHINGTON (CNN) - President Bush said Tuesday he remains disappointed by the House's failure to pass the financial bailout package, but he will continue to work for its approval.
Watch:'Critical moment for the economy'

"I am disappointed by the outcome but I assure our citizens and citizens around the world that this is not the end of the legislative process," the president said in televised remarks from the White House.