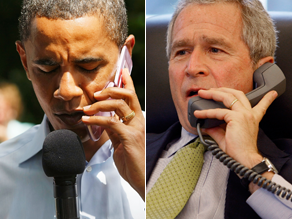 Obama called Bush Tuesday morning.
(CNN) - Barack Obama called President Bush Tuesday morning to discuss the economic bailout bill, campaign advisor Robert Gibbs said.
The two spoke about the need to push for a package that Congress can agree on, Gibbs also said.
Obama also raised his proposal to raise the amount of money the government insures in bank accounts from $100,000 to $250,000.
Obama believes "that such a proposal can broaden the coalition supporting the package," Gibbs said.
At his economic roundtable Tuesday morning, McCain also said he had spoken to the president Tuesday morning.