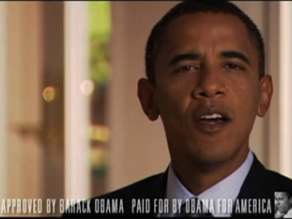 The Obama campaign launched a new ad Monday.
(CNN) – A day after the Dow Industrials index dropped nearly 800 points in reaction to the failure of the $700 billion bailout bill in the House of Representatives, economic issues are dominating the latest round of television ads in the presidential race.
The Obama campaign launched a new ad, "Same Path," Monday. In the spot, Obama speaks directly to the public for nearly two minutes about the nation's troubled economy and what Obama proposes to do about it.
"I know that that we can steer ourselves out of this crisis. But not by driving down the very same path," Obama says. "On taxes, John McCain and I have very different ideas," he also says before detailing changes to the tax code that he would push for as president in order to help small and startup businesses, middle class families, and senior citizens living on fixed incomes.
The ad will air in "key states" nationally, according to a statement issued by the Obama campaign Tuesday.
While the Obama camp's new ad details changes to the tax code Obama would advocate for if elected, the Republican National Committee's new ad seeks to portray Obama's tax policies and spending proposals as a potential fatal blow to the struggling economy.
The 30-second spot, "Worse," begins with images of Wall Street while an announcer asks, "Can it get any worse?" The ad suggests things can get worse if Obama wins the White House. "New taxes. New spending. New debt. Barack Obama's plan: It will make the problem worse," an announcer says in the ad. The RNC says that "Worse" will air in Wisconsin, Ohio, Michigan, Pennsylvania, Virginia and Indiana."
The Obama camp responded quickly to the new RNC ad by blaming Republicans for trying to take political advantage of a moment of crisis instead of trying to work to solve the nation's financial problems.
"For John McCain's party to demagogue a rescue plan that he supports in order to score cheap political points is not only dishonest and dishonorable, it is the height of irresponsibility on a day when we urgently need to pass that plan to prevent an economic catastrophe." Spokesman Bill Burton said in a statement issued by the Obama campaign. "So much for country first."
While congressional Democrats and Republicans failed to reach an agreement to provide the $700 billion the Bush administration is seeking to throw a lifeline to the nation's stalled credit markets, the Dow's historic loss Monday caused by the failure of the bill generated a loss in value estimated at well over $1 trillion.