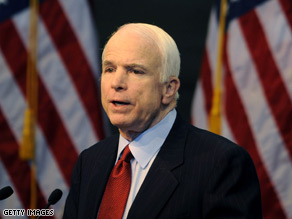 McCain leads by a single point in Virginia.
(CNN) - A new CNN Poll of Polls suggests that the battle for Virginia and its 13 electoral votes is too close to call.
In the latest average of the most recent state polls in Virginia, compiled Thursday, 48 percent of likely voters in the commonwealth are backing Barack Obama for president, with 47 percent supporting John McCain. Five percent of those questioned are undecided.
This edition of the Poll of Polls consists of the Virginia Poll of polls CNN/Time Magazine/Opinion Research Corporation poll (September 28-30), a Mason Dixon survey (September 29-October 1) and an American Research Group poll (September 27-29).
"There are a few reasons why the race in Virginia is so tight," says CNN Senior Political Researcher Alan Silverleib. "First, the state is changing rapidly. The Democratic-leaning suburbs of Washington D.C. are one of the fastest-growing parts of the state. Virginia's also becoming more ethnically and racially diverse — another trend which favors the Democrats. Finally, Virginia's not immune from the country's economic problems. As the Wall Street meltdown has taken center stage the last couple of weeks, the desire for change in Virginia and elsewhere has grown more intense. That plays right into Obama's hands."
Democrats have made major gains in statewide elections in Virginia this decade, winning the 2001 and 2005 gubernatorial races and the 2006 senate seat battle, and they are favored in this year's Senate contest.
But it's a different story in the race for the White House: No Democratic presidential candidate was won Virginia since Lyndon Johnson in 1964. This time around, though, the Obama campaign thinks it can turn this once solidly-red state blue.
"If a Republican nominee hasn't nailed down Virginia's 13 electoral votes with less than five weeks to go, he's in serious trouble. It will be extremely tough for McCain to reach 270 electoral votes if Virginia's not in his column on Election Day," says Silverleib.