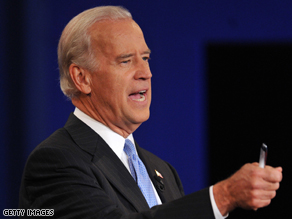 The Statement:
Gov. Sarah Palin, speaking at the vice presidential debate on Oct. 2, asserted that Sen. Joe Biden recently said "higher taxes or asking for higher taxes or paying for higher taxes is patriotic."
Get the facts!
The Facts
Palin repeated Republican criticism of a remark about patriotism and taxes made by Biden in a "Good Morning America" interview on Sept. 18.
ABC correspondent Kate Snow passed along citizens' concerns about what Biden will do "specifically about the money that they've just lost in the stock market, about their 401 (k), about the pension plan. What do you say to those folks?"
Biden said he had a "long list" and talked about creating "2 million jobs if we invest the $70 billion a year we want to invest in infrastructure, new broadband capability, the ability for America to move into the 21st century."
He said he and Barack Obama "want to take money and put it back in the pocket of middle-class people." He said anyone who earns more than $250,000 "is going to pay more."
"It's time to be patriotic, Kate. Time to jump in. Time to be part of the deal. Time to help get America out of the rut. And the way to do that is, they're still going pay less taxes than they paid under Reagan."
The Verdict: Misleading. Biden actually said those who earn more than $250,000 a year during an Obama administration would pay more in taxes that would be used to help the middle class.