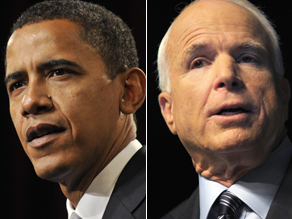 Both campaigns have decreased spending on commercials in Missouri.
ST. LOUIS, Missouri (CNN) – As the battle for the swing state of Missouri heat up, both presidential campaigns seem to be retreating from the airwaves here.
Over the past few weeks, Barack Obama and John McCain both decreased spending on campaign commercials in Missouri, site of tonight's vice presidential debate – a confusing move, given the crucial 11 electoral votes on the line in this bellwether state.
Twenty-four hours ago, recent polling and other factors prompted the CNN Political Team to officially change the state's status on the CNN Electoral Map from "lean McCain" to "tossup."
But the good news for Obama comes as his campaign has decreased its ad spending in the "Show Me State" by about $24,000 from the third week in September to the fourth week, according to an analysis for CNN of campaign commercials in Missouri by TNSMI-Campaign Media Analysis Group. There is an even more dramatic cut apparent from the second week of September to the month's final seven days: over that period, the campaign's ad spending in the state dropped from $456,000 to $332,000.
For his part, McCain's high-level mark for ad spending in Missouri in September came during the second week, when he spent more than $286,000. But the Republican presidential nominee's campaign cut spending to just a hair over $96,000 in the month's final week. While McCain was off the air for two days that week after announcing he would be suspending his campaign, his spending on ads has been on an overall downward trajectory here – a point his campaign spokesman acknowledges.
"There is no question Barack Obama has greater resources in this campaign, but John McCain's record of making change and reforming government will be able to break through in states like Missouri," said Tucker Bounds, McCain's spokesman. "There is a threshold of support for John McCain in the state of Missouri that will hold, and strategically speaking we are allocating our resources throughout the country wherever they are most effective."

A spokesman for Obama refused to discuss the campaign's ad spending strategy.
So why has the needle moved in Obama's direction in Missouri at the same time he has decreased his ad spending? The campaign may not be talking, but a few likely factors jump out.
First, McCain's reduction in ad spending has given Obama the room to cut his own buy, said Evan Tracey, CMAG's chief operating officer and CNN's political advertising consultant. Second, CNN Polling Director Keating Holland suggests that McCain is suffering politically from the financial crisis and by being tied to President Bush. Specifically, in the agricultural state of Missouri, farmers operate on credit, which has been frozen - and recent retirees, who have yet to move their money out of the stock market, might be laying blame for the current crisis on the president's party.
Still, Obama's ad spending in Missouri appears to run counter to his overall ad strategy.
"The state of Missouri is going against his national trends where we have seen steady rises across the board in battleground states," Tracey says. "In Missouri, it has been sort of flat."
Given the recent movement in the polls that seems to signal the state is within reach, perhaps Obama will reverse course and pour more money in the closing weeks into the "Show Me State."