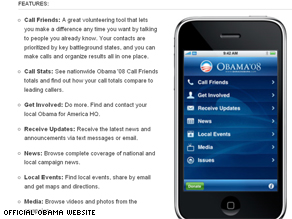 Barack Obama's campaign recently launched a new Apple iPhone application.
(CNN) - Sen. Barack Obama, who has made his virtual campaign as much of a priority as its real-world counterpart, is making a play for iPhone users.
Over the weekend, the campaign launched a volunteer-developed application that iPhoners can download. "Obama '08", which is free through the Apple.com iTunes store, features several options aimed at supporters and undecided voters.
- The "Call Friends" tab allows users to use their electronic phonebook to call contacts, with top priority given to contacts in local and battleground states. The application tells users no personal data or contacts will be uploaded or stored — though the number of calls made will be "uploaded anonymously."
- The "Get Involved" option gives iPhoners the phone numbers to Obama campaign
headquarters around the country, depending on where the user is located; they can also find out about "Local Events." Both functions are based on the GPS feature of the phone.
- iPhone users can "Receive Updates" through e-mail and text message alerts.
- "News" features statements put out by the Obama campaign, separated by national and local categories; "Media" features links to YouTube videos put out by the campaign; Users are able to directly watch the video, as well as e-mail it out.
- An "Issue" feature highlights all of Obama's positions, from civil rights to Iraq.
Naturally, like any good campaign tool, the Obama iPhone application comes complete with a fundraising pitch.
At the bottom of the application menu, there's a green "Donate" button. Once clicked, a disclaimer appears: "You are about to dial the Obama for America donation hotline, exiting this application. Contributions are not tax deductible for federal income tax purposes."
And for users who may feel this campaign season will never end, a particularly re-assuring feature pops up right next to the donate button: An election countdown.