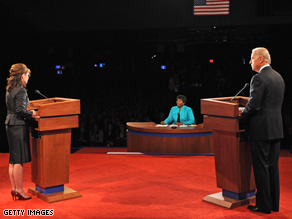 Palin and Biden discuss Bush administration.
ST. LOUIS, Missouri (CNN)- Alaska Gov. Sarah Palin admitted that the Bush administration made "blunders" but accused Sen. Joe Biden of playing the "blame game" and pointing the finger too much at the past.
Palin said McCain's policies will bring change to the U.S instead of finger pointing.
Biden sought to link John McCain to President Bush during the debate.
Biden said he had not heard anything during the debate that proved to him that McCain's policies are any different than Bush.