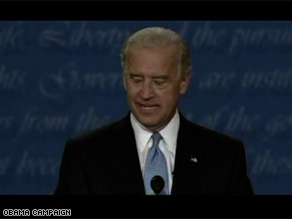 The Obama campaign is out with a new ad featuring a moment from Thursday's debate.
(CNN) - Only hours after the year's sole vice presidential debate ended, the Obama campaign released a television ad highlighting one of Joe Biden's more memorable lines of the night.
The 30-second spot, called 'Can't Explain,' shows Biden's exchange with Sarah Palin over John McCain's healthcare plan. Biden noted McCain will pay for his proposed $5,000 tax credit to families with taxes on every individual with an employer sponsored healthcare plan.
Watch: Obama camp already out with debate ad
"I call that the ultimate Bridge to Nowhere," Biden said of the plan to laughter from the crowd in what was a clear reference to the infamous pork-barrel project. (It's a line Biden has repeatedly used on the trail)
The moment was among the more memorable ones in a debate that featured few knock-out jabs. Palin, a one-time supporter of the bridge project, did not respond to the line but was seen smiling.
UPDATE: Tucker Bounds, a spokesman for the McCain campaign, called Biden's contention an "outright lie."
"Oddly, instead of shying away from an outright lie told by Joe Biden last night, the Obama campaign appears willing to double-down on his reckless dishonestly. It's a lie for the Obama campaign to say John McCain's health care plan taxes health care, when the McCain plan clearly provides the equivalent tax break for every American," he said. "Whether Barack Obama and his running mate are voting in favor of higher taxes on Americans making just $42,000 or telling bald faced lies, Americans know failed leadership when they see it."