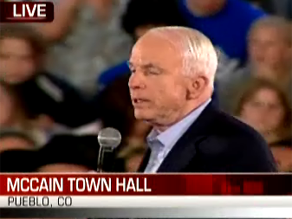 Watch the event on CNN.com/live.
(CNN) - John McCain held a campaign event in Pueblo, Colorado earlier Friday, during which he praised Sarah Palin's performance at the VP debate.
"I am so proud of her performance last night but I am most proud that she has been such a great role model and inspiration to millions and millions of Americans," he said. "You can have a big great family, you can have a great profession, you can have a great husband, you can have wonderful children, and you can serve starting with the PTA to being on the city council to being a mayor and a governor to cleaning up the corruption in your state - and we'll clean up the corruption in Washington together and it is a team of two mavericks."