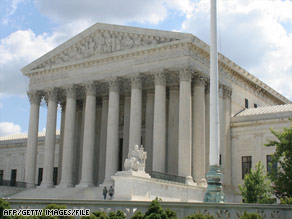 The new president could have the opportunity to name three or four justices to the Supreme Court.
WASHINGTON (CNN) - Republican Sen. John McCain likes fellow conservative justices John Roberts and Samuel Alito. Democratic Sen. Barack Obama does not think much of Clarence Thomas.
That may seem like an oversimplified summary of what the two major candidates for president think about the federal judiciary, but the impact of the upcoming election on the Supreme Court, and thereby the country itself, could be felt for decades to come.
With the high court beginning its new term Monday, the stakes in the presidential election a month later loom large for voters who care about hot-button issues that judges decide, including abortion, school prayer and gay rights.
The future occupant of the White House could have the opportunity to name perhaps three or four justices, which could either solidify an ideologically split bench or dramatically move it further right.
"I think as the election approaches, the Supreme Court will take on more prominence as an election issue," said Edward Lazarus, author of an inside account of the high court, "Closed Chambers." "The court will always be viewed as a political institution to some extent because we are a deeply political nation that translates those political issues into law."