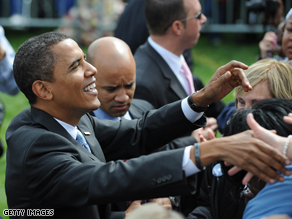 A new national survey suggests that Barack Obama is viewed as a more compassionate candidate.
NASHVILLE, Tennessee (CNN) - Just hours before the start of the second presidential debate, a new national survey suggests that Barack Obama is increasingly viewed as a more compassionate candidate than John McCain — a factor that could make a difference in Tuesday's face-off, a town hall style meeting that will feature direct interaction between the two men and voters in a live audience.
In the new CNN/Opinion Research Corporation poll out Tuesday afternoon, 55 percent of registered voters questioned say that Obama "cares more about people like you" than McCain, with 35 percent saying McCain cares more than Obama. That 20 point margin for Obama is up from a 9 point advantage a month ago.
"The all-time champion of town-hall debates was Bill Clinton, because he was able to connect with the audience members so well," said CNN Polling Director Keating Holland. "Voters nationwide seem to feel some connection with Obama. The question is whether he'll connect with the people at the debate tonight. John McCain has a pretty good track record at town halls, and it's possible that he will be the one who looks more compassionate."
Obama also appears to be viewed as the candidate with the clearer plan to solve the country's problems. He has a 15 point lead over McCain on that question in the poll, 48 percent to 33 percent. Last month, McCain had a two point advantage on that question.
"Debate watchers - particularly moderates and independents - tend to look for specifics," Holland noted. "Both candidates will probably want to play into that expectation."
Obama has also made gains on the question of leadership ability: A 19 point McCain advantage early last month on the question of which candidate was a strong and decisive leader has now shrunk to a five point lead. But McCain is still viewed as better-prepared than Obama: by 54 to 36 percent, of those polled said he has the better experience to be president.
The Democratic nominee now holds the edge on handling the war in Iraq than John McCain: by 51 percent to 46 percent, they say he would do a better job dealing with that issue - a switch in the standings from the last CNN poll.
"Voters agree with McCain that things are going well for the U.S. in Iraq. That's a switch since April when we last asked that question," said Holland. "But voters also agree with Obama that the war was a bad idea - and they haven't changed their minds on that in almost four years."

The issue has also faded into the background for many voters. "Iraq may be doing better, but we're not. Guess which matters more to voters," says CNN Senior Political Analyst Bill Schneider.
A majority of those surveyed also said Obama would better handle the economy (57 to 37 percent), a financial crisis (53 to 36 percent), and health care (60 percent to 33 percent). McCain is still viewed as the candidate best-equipped to deal with the threat of terrorism, leading Obama 54 to 44 percent.
Obama's favorable rating among those questioned in the poll is 62 percent, down 1 percentage point from three weeks ago; McCain's favorable rating is 54 percent, down 3 points.
The CNN/Opinion Research Corporation poll was conducted Friday through Sunday (October 3-5), with 1,006 adult Americans questioned by telephone. The survey's sampling error is plus or minus 3 percentage points for some questions, including favorability and unfavorability ratings, and plus or minus 4.5 percentage points for others