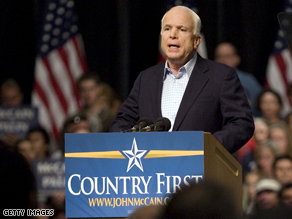 McCain 'undisputed champion' of the town hall.
(CNN) – Following the hallowed pre-debate tradition, Democrats spent the hours before Tuesday night's presidential debate praising GOP nominee John McCain.
The Democratic National Committee released a Web video Tuesday afternoon featuring footage of analysts, and McCain himself, highlighting his prowess in and ease with the night's town hall format.
"Since McCain is the undisputed champion of the town hall, anything less than a game-changing performance tonight would be major disappointment," said DNC spokesman Damien LaVera.
Earlier in the day, Barack Obama's campaign looked to set similar high expectations for his opponent. "When it comes to sheer format, we enter today's debate the decided underdog," said Obama spokesman Bill Burton in a memo sent to reporters. "John McCain does extremely well in town hall settings. It's been his favorite format throughout his career and we think that he will of course do very well."
He also used less-complimentary language the campaign has used to describe McCain, describing the Republican as "erratic" and desperate: "John McCain is running out of time for a game-changing event," he said.
McCain and Obama are slated to face off in Nashville this evening.