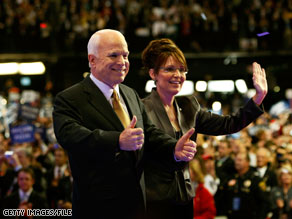 Sen. McCain is trailing in Minnesota despite the fact that the Republican convention was held in St. Paul.
(CNN) – With less than a month to go until Election Day, CNN's latest Minnesota poll of polls shows a major advantage for Sen. Barack Obama.
Obama now leads Sen. John McCain by 14 percentage points – with support from 54 percent of likely voters in the state, compared to 40 percent for McCain. Six percent of likely Minnesota voters are unsure about their choice for president. In CNN's previous Minnesota poll of polls, Obama was ahead of McCain by a single point – 47 percent to 46 percent.
"The meltdown on Wall Street has significantly strengthened Obama's hand in Minnesota," noted CNN Senior Political Researcher Alan Silverleib. "The crisis has reinforced the state's traditional embrace of economic populism, which almost always benefits the Democrats. At the same time, any local bounce McCain might have received from holding his party's convention in St. Paul has now worn off. It's worth remembering that no Republican candidate has carried Minnesota since Richard Nixon in 1972; it's tough to imagine any GOP candidate seriously contesting the state when he's trailing nationally by five or six points."
Tuesday's CNN Minnesota poll of polls is made up of the following three surveys: Minnesota Public Radio/Humphrey Institute (October 3-5), Star Tribune (September 30-October 2) and CNN/Time/ORC (September 28-30).
The poll of polls does not have a sampling error.
Minnesota is the latest in a number of states that have seen growing advantages for Obama since the financial crisis began.