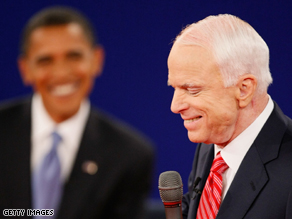 Roland Martin want's to know, 'Can McCain outshine Obama tonight?'.
(CNN)–Sen. John McCain, you've got your wish. He has complained all summer about debating Sen. Barack Obama in a town hall setting, now he's got it.
And he must deliver.
His staff has maintained all that day that this is the forum that he likes, that he's good at, and that he should outshine Obama at every turn.
Folks, let's get it on and see who has mastered the economy and who can connect with the American people.
Game on!