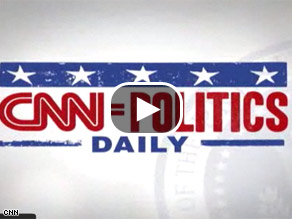 Watch Tuesday's episode of CNN=Politics Daily, The Best Political Podcast from The Best Political Team.
(CNN) – Sens. John McCain and Barack Obama are set to square off in their second debate Tuesday night - but this time there's a twist: both will take questions directly from voters, as surveys show the electorate overwhelmingly focused on the economy, and the crisis in the nation's financial system.
In the latest episode of CNN=Politics Daily, Suzanne Malveaux previews Tuesday's debate.
Even after the passage of the $700 billion Wall Street bailout plan, stock markets around the world continue to be roiled by frozen credit markets in the U.S. and abroad. Allan Chernoff takes a look at what McCain and Obama plan to do to calm the country's troubled economy.
Finally, American Morning's John Roberts fills you in on new CNN/Time Magazine/Opinion Research Corporation poll results in five battleground states and changes to CNN's Electoral Map.
Click here to subscribe to CNN=Politics Daily.