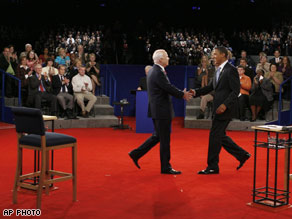 Senators Obama and McCain shake hands before the debate at Belmont University in Nashville, TN.
NASHVILLE, Tennessee (CNN) - Both of these candidates are engaging in Washington speak. McCain's tone is better at talking to the audience, but the problem is that he loses no opportunity to criticize Obama...what the voters want is someone who focuses on their concerns. I'm not sure either of them are relating to them.
Both seem to be giving campaign speeches.