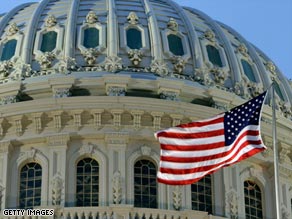 Analysts say Democrats may control the Senate after the November election.
WASHINGTON (CNN) - In the face of an economy in crisis and a deeply unpopular president, some analysts believe the situation is ripe to give Democrats a 60-seat filibuster-proof majority in the Senate in November.
It's "the perfect storm" said Stuart Rothenberg, editor of the nonpartisan Rothenberg Political Report. "You've got Republican voters angry at Republicans, many Americans just petrified about the future...wanting change. And right now change appears to be coming in the form of Democrats."
Of the 35 Senate seats on the line this year, 23 are held by Republicans. Five Republican senators are retiring: Pete Domenici of New Mexico, Wayne Allard of Colorado, John Warner of Virginia, Larry Craig of Idaho and Chuck Hagel of Nebraska.
Democrats control the Senate. Although it's split evenly with 49 Democrats and 49 Republicans, two independents - Bernie Sanders of Vermont and Joe Lieberman of Connecticut - caucus with the Democrats.
Winning a filibuster-proof majority of 60 Senate seats, commonly called the "magic 60," would virtually prevent Republicans from blocking legislation on the Senate floor.