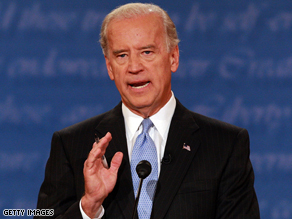 Joe Biden said in Tampa Wednesday that the McCain camp has 'chosen to appeal to fear'.
TAMPA, Florida (CNN) – Joe Biden said in Tampa Wednesday that the McCain camp has "chosen to appeal to fear" in the wake of the economic downturn and called recent comments by Sarah Palin about Barack Obama "outrageous inferences."
Holding his first campaign rally in a week and a half, Biden said the McCain camp is trying "to take the low road to the highest office in the land," and that they chose to ignore the "intellectually honest" options of dealing with the economic crisis.
"The one they have chosen is to appeal to fear with a veiled question, who is the real Barack Obama?" said Biden in the University of South Flordia's Sun Dome arena. "To have a Vice Presidential candidate raise the most outrageous inferences – the ones that John McCain's campaign is condoning – is simply wrong."
Palin this week has repeatedly attacked Obama's character, accusing him of "palling around with terrorists," referring to Obama's connection with the Weather Underground's William Ayers.
"Folks, don't be distracted, those attacks don't hurt Barack Obama or me, they hurt you," said Biden. "Every single false charge and baseless accusation is an attempt to get you to stop paying attention to what's going on in this country. Beyond the attacks, what is John McCain really offering?"
The Delaware senator called McCain "an angry man lurching from one position to another" and applauded questioners at Tuesday night's town hall debate for ignoring recent attacks by Republicans on Obama.

"You didn't hear a single question about the ugly inferences and the unbecoming personal attacks launched by the McCain campaign on Barack Obama," said Biden. "Barack Obama showed again last night that he understands that these debates aren't about Governor Palin and me, they aren't about Barack Obama and John McCain, these debates, this election is about you."
The McCain campaign responded with a statement saying Obama and Biden lack a record of reform, and the credibility to call for it.
"During their combined 39 years in the U.S. Senate, Barack Obama nor his running mate have ever challenged their own party," wrote spokesman Ben Porritt. "Their 'run with the herd' mentality, radical associations, and partisan proposals have made them the most liberal ticket in political history."
Biden joked about his face-off against Sarah Palin - "at least I think it was a debate" - and said that if Wednesday night's presidential debate featuring the top of the ticket had been part of a "best of five series, it'd be over. It'd be done!"