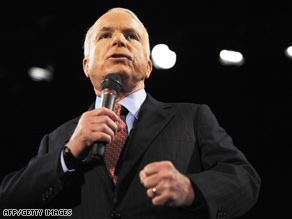 NEW YORK (CNNMoney.com) - Under a mortgage rescue plan announced at the debate Tuesday night by Senator John McCain, much of the burden of paying to keep troubled borrowers in their homes will shift to taxpayers.
McCain's original plan called for lenders to write down the value of these mortgages, and take those losses. McCain unveiled the new $300 billion plan in response to the first question of the debate.
He said, "I would order the Secretary of Treasury to immediately buy up the bad home loan mortgages in America and renegotiate at the new value of those homes, at the diminished values of those homes, and let people make those – be able to make those payments and stay in their homes."