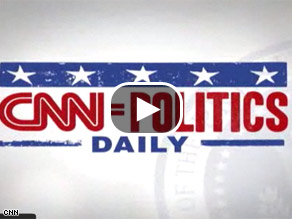 Watch Wednesday's episode of CNN=Politics Daily, The Best Political Podcast from The Best Political Team.
(CNN) – With less than a month until Election Day, all eyes were on Tuesday night's town-hall style debate between Sens. Barack Obama and John McCain.
In the latest episode of CNN=Politics Daily, White House Correspondent Ed Henry reports on the highlights of the Obama-McCain town hall tussle, and fellow White House Correspondent Suzanne Malveaux has reaction from Republicans — along with the inside story about what the Obama camp is planning in the last month of the race.
Plus: American Morning's John Roberts has the results of a survey measuring the immediate reaction by debate watchers. Find out who viewers thought won the critical face-off.
Roberts also speaks with Richard Haass, president of the Council on Foreign Relations, about the foreign policy issues that came up Tuesday night, and what both candidates had to say about the global financial crisis.
While McCain and Obama were squaring off, die-hard Democrats and Republicans gathered together at debate parties across the country. Jason Carroll reports on what loyalists from both political parties thought about the rivals second face-off.
Finally, check out Jeanne Moos' unique take on the second presidential debate.
Click here to subscribe to CNN=Politics Daily.