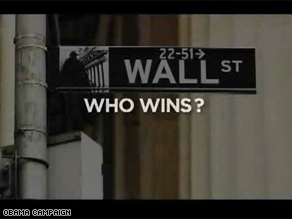 A new Obama ad takes aim at McCain's mortgage plan.
(CNN) - Barack Obama's campaign is launching a new television ad that takes aim at John McCain's recently announced proposal to have the treasury buy Americans' bad mortgages.
"McCain would shift the burden from lenders to taxpayers, guaranteeing a loss of taxpayer money," the ad's narrator says.
"Who wins? The same lenders that caused the crisis in the first place."
Putting bad actors ahead of taxpayers? We can't afford more of the same," the narrator also says.
McCain's original plan called for lenders to write down the value of the bad mortgages and take those losses. But the Republican presidential candidate unveiled a new $300 billion plan in response to the first question of Tuesday's presidential debate.
He said, "I would order the Secretary of Treasury to immediately buy up the bad home loan mortgages in America and renegotiate at the new value of those homes, at the diminished values of those homes, and let people make those – be able to make those payments and stay in their homes."
The government would convert failing mortgages into low-interest, FHA-insured loans.
CNNMoney.com breaks down McCain's new plan