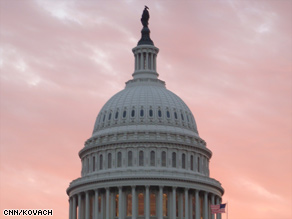 CNN: Palin's husband testifies he never pressured official
The investigation into Alaska Gov. Sarah Palin's dismissal of a state official moved forward on two fronts Wednesday. Palin's husband, Todd, said in a sworn affidavit released Wednesday night that he never pressured the state's public safety commissioner to fire Palin's former brother-in-law, a state trooper who had divorced the governor's sister.
Washington Post: McCain Campaign Tries To See Glass as Half Full
It was a late night for John McCain's campaign - a post-debate repast of karaoke until the wee hours of the rain-soaked morning. They sang neither in celebration nor to drown their sorrows. Tuesday's presidential debate did not fundamentally alter the race.
Washington Post: McCain Plan Draws Doubts From Experts On Mortgages
Sen. John McCain's proposal to have the federal government directly buy and refinance troubled home loans would cost about $300 billion, his campaign said yesterday.
That money would come from the new $700 billion Wall Street bailout and a $300 billion refinancing program enacted as part of a housing bill adopted this summer.
USA TODAY: Different styles, same goal: How the candidates made it work
They're both senators, but that's pretty much where the similarities end.
From their first jobs to the financial crisis, Democrat Barack Obama and Republican John McCain have revealed themselves as polar opposites, forged by their personalities and biographies into potential presidents with vastly different leadership and management styles.
CNN Radio: Candidates and surrogates thrust and parry down the home stretch
Flip-flop accusations and town hall ducking. Also, Michelle Obama defends her husband. Bob Costantini has today's CNN Radio Political Ticker.
USA TODAY: McCain: 'Bare-knuckled fighter' won't take no for answer
John McCain had been home from a Vietnam prison less than three years when he was assigned to command the Navy's Replacement Air Group 174 in Jacksonville. The way he went about the job is similar to the way he's running his campaign and reacting to events on Wall Street 32 years later.
NYT: Obama Aims TV Ads at Younger Voters
Senator Barack Obama is ramping up his efforts to boost turnout in November among younger voters. Officials at MTV Networks report that he has bought commercial time on three of its networks, Comedy Central, VH1 and Spike, and that his ads could begin running on those outlets as early as Thursday.
NYT: Drop That Puck
Gov. Sarah Palin, the Republican vice-presidential nominee and Alaskan hockey mom, will drop the puck at a Philadelphia Flyers game on Saturday night as they play the New York Rangers, the Flyers announced on Wednesday.
Washington Times: McCain casts rival as wrong man for the job
Sen. John McCain went for the jugular Wednesday, casting his Democratic presidential rival as untruthful, "extreme" and unqualified the night after their debate offered no knockout punches.
NYT: G.O.P. Facing Tougher Battle for Congress
The economic upheaval is threatening to topple Republican Congressional candidates, putting more Senate and House seats within Democratic reach less than a month before the elections, lawmakers and campaign strategists say.
AP: Obama holds advertising advantage over McCain
Barack Obama spent $3.3 million in TV advertising on Monday. At that rate the Democrat will spend more than $90 million on ads through Election Day – more than all the money Republican rival John McCain has to spend on his entire fall campaign.
Boston Globe: Losing female support, McCain alters approach
Senator John McCain returned to the campaign trail yesterday with new emphasis on a domestic agenda that appeared designed in part to address the concerns of white women, a crucial voting bloc that has moved steadily in recent weeks toward his rival, Barack Obama.