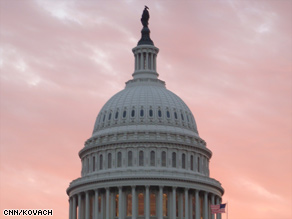 CNN: Thousands of voter registration forms faked, officials say
More than 2,000 voter registration forms filed in northern Indiana's Lake County by a liberal activist group this week have turned out to be bogus, election officials said Thursday.
AP: Palin pre-empts state report, clears self in probe
Trying to head off a potentially embarrassing state ethics report on GOP vice presidential nominee Sarah Palin, campaign officials released their own report Thursday that clears her of any wrongdoing.
Washington Post: PR Consultant Helped Palin Grab Spotlight
During her first months in office, Alaska Gov. Sarah Palin kept a relatively light schedule on her workdays in Juneau, making ceremonial appearances at sports events and funerals, meeting with state lawmakers, and conducting interviews with Alaska magazines, radio stations and newspapers.
Washington Post: Anger Is Crowd's Overarching Emotion at McCain Rally
There were shouts of "Nobama" and "Socialist" at the mention of the Democratic presidential nominee. There were boos, middle fingers turned up and thumbs turned down as a media caravan moved through the crowd Thursday for a midday town hall gathering featuring John McCain and Sarah Palin
Washington Post: Candidates Spar Over McCain Plan for Loans
Democratic presidential candidate Barack Obama on Thursday said rival John McCain's mortgage rescue plan "punishes" taxpayers and rewards lending institutions that created the crisis, while McCain charged that his opponent's response showed a lack of concern
for homeowners.
CNN Radio: The words and the crowds get ugly
Barack Obama takes a page from Ross Perot, both presidential candidates ramp up the attacks, and the crowds are getting restless. Lisa Desjardins has today's CNN Radio Political Ticker.

NYT: Obama Picks the Phillies
With all the attention being paid to Philadelphia sports teams, you'd think that city was part of an important election or something. Not only is Gov. Sarah Palin, the Republican vice presidential candidate, dropping the puck at a Flyers game on Saturday night; Senator Barack Obama, the Democratic presidential nominee, has now come out for the Phillies in the National League playoffs against the L.A. Dodgers.
NYT: Palins Repeatedly Pressed Case Against Trooper
The 2007 state fair was days away when Alaska's public safety commissioner, Walt Monegan, took another call about one of his troopers, Michael Wooten. This time, the director of Gov. Sarah Palin's Anchorage office was on the line.
Washington Times: McCain fights to find votes in Wisconsin
Wisconsin? Really?
"We wouldn't be here if we didn't think we could win here," said Mark Salter, a top aide to Sen. John McCain.
Washington Times: Squabbling senators disown McCain mortgage plan
So whose mortgage plan is it?
After Sen. John McCain detailed for a national audience Tuesday "my proposal" to have the government buy out bad mortgages, his presidential campaign Thursday said he was actually following in the footsteps of proposals by Sen. Hillary Rodham Clinton and others.
Washington Times: Barr eyes bailout as opening to promote Libertarian Party
Private markets fail, politicians from both parties jump to their rescue, and taxpayers get stuck with the bill. Libertarian candidate Bob Barr couldn't have scripted a better story line to argue that Republicans and Democrats are interchangeable – with a helpless addiction to spending.