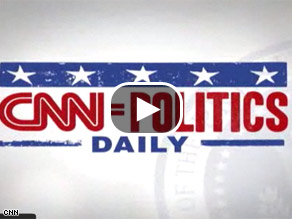 Watch Monday's episode of CNN=Politics Daily, The Best Political Podcast from The Best Political Team.
(CNN)— John McCain is continuing his campaign trail attacks on Sen. Barack Obama, but his tone has shifted a bit in the past few days. In the latest installment of CNN=Politics Daily, CNN's Jim Acosta has the details how well McCain's attack rhetoric is being received.
Plus: The troubled economy has been dominating presidential politics for the past few weeks. We have a complete report on the latest push by both presidential candidates to appear strong on the economy, while CNN's Alina Cho has the details on the recent changes CNN has made to its electoral map in critical battleground states.
Meanwhile: Elderly voters could be once again prove decisive this election cycle. CNN's John Zarella reports from Florida on the push for the senior vote.
Finally: While the presidential candidates focused on the economy, Republican vice presidential candidate Sarah Palin sharpened her attack on Obama over abortion. CNN's Kelli Arena takes a look at how the presidential election could shape the Supreme Court.
Click here to subscribe to CNN=Politics Daily.