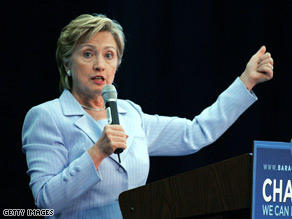 Clinton thinks McCain needs to focus on the issues.
(CNN)— Despite her own heated primary battle with Barack Obama, Hillary Clinton said Tuesday John McCain is focused too much on negativity and too little on the American people.
"[McCain's] camp needs to stay focused on what the American people are focused on and not stray off into negativity or distraction or diversionary tactics," Clinton told CNN's John Roberts.
Related: I'd like a woman in the White House I agree with Clinton says
"Let's stay focused on what we elect a person for. We hire a president to make best decisions, to have a good team around to push us toward goals to make us stronger and richer and safer and smarter in the future," Clinton added.
Watch: Clinton slams Obama's negativity
Clinton commended McCain for coming to Obama's defense at a rally last week in Minnesota after an audience member attacked the Illinois senator's character.
McCain described Obama as a "decent person and a person that you do not have to be scared of as president of the United States."
Questioned about the McCain's campaigns decision to highlight Obama's relationship with Underground member William Ayers and other issues Clinton herself raised during the primary season, the New York senator responded: "It depends how [they] are raised."
When pressed further Clinton said, "the relevance is that people when you run for president, everything is wide open. And voters are going to want to know a lot about you."
During a Democratic presidential debate in April, Clinton herself questioned Obama's association with Ayers, predicting it was "an issue certainly Republicans will be raising," if Obama became the party's nominee.
Tuesday, Clinton defended Obama, telling Roberts the Democratic nominee has addressed the issue a number of times.
"I'm confident that when the American people compare the Obama-Biden ticket with the McCain-Palin ticket and what each stands for, they going to support Sen. Obama," said Clinton.