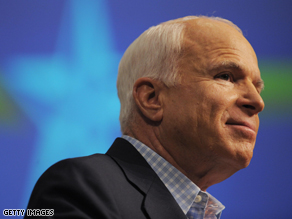 McCain suggests Obama at fault for bailout delay.
(CNN) - John McCain's campaign says their candidate will outline new economic proposals today. The campaign titles the plan "the Pension and Family Security plan," and says it will "help those who are currently hurting the most" from the ongoing economic crisis, "including workers, homeowners, and seniors."
The campaign says the new plan builds on McCain's "American Homeownership Resurgence Plan" which was introduced last week. The campaign says that proposal called for using $300 billion of the $700 billion financial bailout package passed by Congress and signed into law by President Bush to keep Americans in their homes, stop declining housing values, and stabilize the financial markets.
The Republican nominee is expected to address the new plan at a rally he holds in suburban Philadelphia today.
In a one-on-one interview Monday with CNN's Dana Bash, McCain said that "I have a positive plan, we'll bring the economy back."
The plan calls for lower taxes on seniors tapping their retirement accounts, a suspension of tax rules that force seniors to sell their stocks in the midst of this financial crisis, an acceleration of tax write-offs for those forced to sell stocks at a loss in the current market, a reduction of capitol gains taxes for 2009 and 2010 to raise the incentive to save and invest, the purchasing of mortgages directly from homeowners and mortgage servicers and replace them with manageable and fixed rate mortgages, and an elimination of taxes on unemployment benefits.
McCain's announcement comes one day after his rival, Democratic presidential nominee Barack Obama, announced his own proposals, which his campaign termed an "economic rescue plan for the middle class."
The Arizona senator has his work cut out for him when it comes to the economy. The most recent CNN/Opinion Research Corporation poll suggests Americans think Obama would do a better job than McCain in dealing with the economy. Fifty-seven percent of those polled in the CNN survey said Obama would do a better job dealing with the economy, with 37 percent saying McCain would do best.