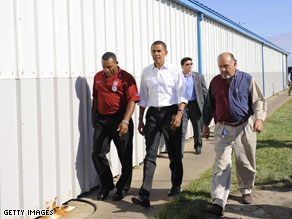 Sen. Obama campaigned in Ohio Tuesday.
DAYTON, Ohio (CNN) – Before heading to greet workers during a shift change at a local factory, Barack Obama told reporters the government's plan to buy shares in the nation's banks was "a good one."
The plan "gives taxpayers a better chance of getting their money out," he said. "It also gives the treasury some more direct mechanisms to monitor and apply some ground rules to participating banks."
Watch: Obama lays out his plan to help the middle class and the economy
Obama said he was still "concerned" about "cracking down on excessive CEO pay" and wanted to make sure that was part of the Treasury Department's plan going forward. He also said he wants the discussion about "guarantees to bank loans" to continue as that might help loosen credit for small business owners.
The Democratic nominee said he had yet to fully review the $52 billion economic plan John McCain put forward Tuesday, but said a heavy emphasis on a capital gains tax cut did not seem like a sound idea.
"I will tell you that nobody really has capital gains right now," said Obama. "So if the idea is to cut capital gains taxes - when I don't know anybody, even the smartest investors who right now are going to be experiencing a lot of capital gains - that probably is not going to be particularly useful in solving the financial crisis."