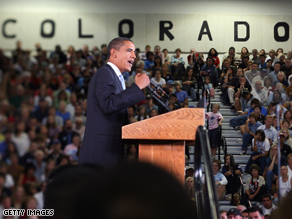 Obama has taken a wide lead in Colorado, and several other states.
(CNN) - A string of new state polls out Tuesday show John McCain continues to face an unfavorable landscape in several key battlegrounds with three weeks remaining until voters weigh in at the polls.
A series of new surveys from Quinnipiac University, the Wall Street Journal, and WashingtonPost.com suggest McCain is significantly behind in Minnesota, Wisconsin, Michigan, and Colorado - a state that hasn't voted Democratic in 16 years, and one where a loss could prove to be a fatal blow to McCain's White House hopes.
Watch: Polls show McCain blowback
"Obama is surging nationwide, and we're now seeing that reflected in almost all of the state polls," noted CNN Senior Political Researcher Alan Silverleib. "Bush's record low approval ratings have combined with a tanking economy, an unpopular war, an off-balance McCain campaign, and one of the largest fundraising disparities in campaign history to create the perfect political storm.
Election Center: Check out the latest state polls
In Minnesota, the new Quinnipiac poll has Obama up 11 points over McCain, 51-40 percent. Incorporating other recent surveys from the state, a CNN poll of polls in Minnesota shows Barack Obama's lead over the Arizona senator there is now about 9 points.
It's a similar picture in Wisconsin, where the Quinnipiac poll has Obama up 17 points, and where a new CNN poll of polls there shows the Illinois senator with an 11 point lead. That's nearly double the Democratic nominee's lead just two-and-a-half weeks ago.
In Michigan, the state the McCain campaign officially pulled out of earlier this week, the latest Quinnipiac poll shows Obama with a 16 point lead. Since McCain has pulled nearly all his staff from the state and essentially conceded its 17 electoral votes to Obama, there have not been enough recent polling there for a CNN poll of polls.
In what could be particularly bad news for McCain, the new Quinnipiac survey also shows the Arizona senator down 9 points in Colorado - a steep decline from polls taken earlier this week that suggested the race was tied there. With McCain's path to the nomination continuing to narrow, Colorado may just be a must-win state for the Arizona senator's White House chances to stay alive.
"Obama's lead in Colorado — a state the Democrats have won only twice since 1952 — should be particularly worrisome for McCain," Silverleib said. "Obama can win the White House without Colorado's nine electoral votes; McCain almost certainly cannot."