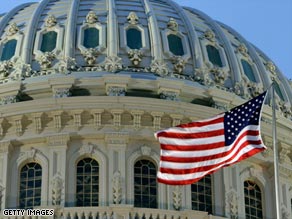 Analysts say the November election could give Democrats a filibuster-proof majority.
(CNN) - Amid a string of polls that suggest Democrats could be in striking distance of reaching a filibuster-proof majority, the Republican National Committee is considering taking out a loan to help endangered senators in key battleground states, a GOP strategist told CNN Tuesday.
The news comes a week after the RNC announced it had raised $66 million in September, its best fundraising month ever. But in an effort to keep pace with Barack Obama's cash advantage over John McCain, those funds are going entirely toward the presidential race.
Related: Can Dems reach 60?
Meanwhile the National Republican Senatorial Committee has been largely outspent by its Democratic counterpart this cycle and the possibility of Democrats getting to the magic number of 60 seats in the Senate has become likely in the wake of the economic crisis.
It's unclear what the size of the loan might be, but Politico reported Monday the amount could be as high as $5 million.