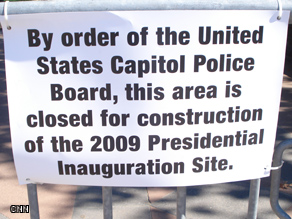 WASHINGTON, D.C. (CNN)– There are times when this presidential campaign feels as if it has been going on forever, and sometimes you half-believe that it will, in fact, never end.
And then comes a moment like the one the other afternoon at the edge of the west lawn of the United States Capitol.
Tourists crowded the sidewalks and gazed across the expanse of grass at the grandeur of the white dome. Some were with families– Robert and Martha Cohen, of Framingham, Massachusetts, had brought their grandchildren to see the historic sites. Some had traveled from distant nations to get a firsthand look at Washington, and their spoken languages intermingled in the warm October air.
None of them were going to get to walk across that lawn, though, because metal fences had been linked securely together, then tied in turn to green storm fencing, cutting off all access.
That the Capitol lawn was sealed off was not particularly surprising; the rule of thumb in Washington, especially since September 11, 2001, has essentially been: the more precious the federal property, the more difficult it is for citizens to just wander around on it or in it.
But the Capitol lawn had been locked off to pedestrian traffic for a specific reason. On one of the metal fences was a sign with these words:
"By Order of the United States Capitol Police Board, this area is closed for construction of the 2009 Presidential Inauguration Site."
That's just how short time is getting. Tonight, in Hempstead, New York, Barack Obama and John McCain will debate one last time, each hoping that the other will stumble, each trying to be the one who will be taking the oath of office in January.
And meanwhile, laborers at the Capitol, who don't have time to wait for the voting results, have begun working on the structure for the day in January when the 44th president will be sworn in. It's going to be just that soon.
Down the National Mall on this day, the Washington Monument and Lincoln Memorial rose as they do every day above other plots of grass; once in a great while this country produces a president for whom we build monuments like those. Near the west lawn of the Capitol, some visitors, unable to go any farther, turned around and gazed upon Franklin Simmons' 1878 Peace Monument. The official description of the monument– the description put on display near its base by the U.S. government– reads, in part:
"At the top of the 44-foot monument, Grief, sometimes called America, weeps on the shoulder of History."
A dark thought on a sunlit day. A few feet away more families were approaching the point beyond which they could not pass, and were silently reading the words:
". . . closed for construction of the 2009 Presidential Inauguration Site."
We departed for Long Island in the state of New York, where tonight two men will debate.