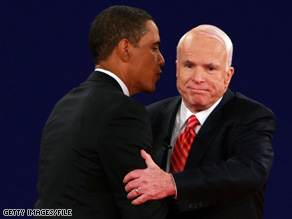 Martin: Obama is setting up McCain for a knockout blow.
(CNN) - Muhammad Ali was not only a great boxer, but an awesome tactician.
Remember the fight against George Foreman in Zaire? My man damn near went to sleep on the ropes as Foreman flailed away, using his energy to pound away at Ali. And at the right time, the Greatest of All Time started blasting away, eventually knocking Foreman out.
That's exactly what Sen. Barack Obama is doing to Sen. John McCain.
At no time during the Democratic primary has Obama tried to pick a fight. So when he told ABC last week that when it came to bringing up 1960s radical Bill Ayers on the campaign trail, McCain "wasn't willing to say it to my face," I instantly saw it as Obama throwing down the gauntlet.
Knowing full well that the senior senator from Arizona has a hot temper, he couldn't resist the bait.
"He has probably ensured that it will come up this time," McCain told a Missouri radio station.
And by doing so tonight, Obama will be ready to pounce.
I debated conservative Michael Steele last night at Fayetteville State University in Fayetteville, N.C., and he said McCain should stay focused on the issues. I concur.
By bringing up an issue voters don't care about, McCain will alienate independents, and make it easier for Obama to appeal to them.
If it happens, just watch Obama pound away at McCain, just like Ali did to Foreman.