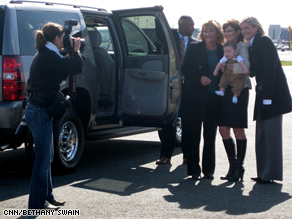 Palin poses with supporters after arriving in New York for her much-anticipated appearance on SNL Saturday night.
NEW YORK (CNN) - Sarah Palin has arrived in New York and will head to NBC headquarters at Rockefeller Center at 4 p.m. ET for an afternoon of rehearsals before making her much-anticipated debut on 'Saturday Night Live' this evening.
An aide to Palin said Saturday that "there are multiple scripts," but would not elaborate.
"Things are in the works," said Palin spokesperson Tracey Schmitt. "Stay tuned."
As of Friday evening, Palin had yet to see a script for the sketch show, according to another campaign adviser.
UPDATE: Palin has arrived at SNL's studios, accompanied by three aides. She is expected to spend the rest of the evening in rehearsals.