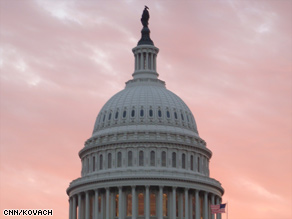 CNN: Obama to leave campaign trail to visit ailing grandmother
Sen. Barack Obama will take a break from campaigning Thursday so he can visit his ailing grandmother in Hawaii, an Obama spokesman said Monday.
CNN: Protesters try to disrupt Palin motorcade
Several protesters tried to block the motorcade of Republican
vice presidential candidate Sarah Palin in Grand Junction, Colorado on Monday
afternoon, but police dragged them out of the way in a dramatic encounter.
CNN: Borger: A divided GOP hurts McCain
The news over the weekend that former Republican secretary of state and ex-chairman of the Joint Chiefs of Staff Colin Powell is endorsing Barack Obama was hardly unexpected.
CNN: Most believe McCain's attacks on Obama unfair, poll finds
A growing number of Americans believe John McCain has attacked Barack Obama unfairly, a negative perception of the Arizona senator that could cost him at the polls on Election Day.
CNN: Clinton urges supporters to 'close the deal' for Obama
Hillary Clinton came to Florida, a state she won in the primary but whose delegates she could not fully claim, to urge her supporters to turn out for Barack Obama on Election Day.
CNN: McCain camp looking for way to win without Colorado
The McCain campaign is looking at an Electoral College strategy heading into the final two weeks that has virtually no room for error and depends heavily on a dramatic comeback in Pennsylvania, which hasn't backed a Republican for president in 20 years.
CNN Radio: Obama chooses sides (both) in World Series, McCain campaign seeks money from an unlikely donor
The McCain camp shakes its head over some western states, Barack Obama likes both teams in the World Series, and a McCain fundraising letter ends up with a Russian ambassador. Lisa Desjardins has today's CNN Radio Political Ticker.

CNN: Mahoney's wife files for divorce
Terry Mahoney, wife of Democratic Congressman Tim Mahoney, has filed for divorce following revelation of her husband's affairs, her attorney told CNN.
Washington Post: Minn. Candidate a Poster Boy for Democratic Hopes
On paper, it makes little sense that Democrat Ashwin Madia is running a close race for Congress in the Minneapolis suburbs. He is a 30-year-old political neophyte challenging a respected Republican statehouse leader for an open seat held by the GOP since 1960.
USA TODAY: Medical records indicate Biden in good health
Democratic vice presidential candidate Joe Biden appears in very good health, with some of the routine issues of aging, but there's no evidence that he has had a brain scan to rule out completely another aneurysm like the one that required emergency lifesaving surgery 20 years ago.
USA TODAY: Evangelicals say they're not represented in newsrooms
Here is a foolproof way for politicians to score points with evangelical voters: Attack the media, an institution widely seen as lacking conservative Christian voices.
NYT: Laws Allow Donors to Surpass Limits in Campaign
Much of the attention on the record amounts of money coursing through the presidential race this year, including in Senator Barack Obama's announcement on Sunday of his $150 million fund-raising haul in September, has focused on the explosion of small donors.
NYT: Kennedys Among Those Who Helped Top Paterson Aide Pay $200,000 Tax Bill
Gov. David A. Paterson's top aide turned to the Kennedy family, as well as his own family, a college friend and a number of banks, to raise money to pay off delinquent state and federal taxes and penalties of more than $200,000, according to state records.
Washington Times: Pakistanis resist global favorite Obama
Barack Obama may be winning in the U.S. and most global popularity polls, but he's a loser in Pakistan.
WSJ: Volcker Makes a Comeback as Part of Obama Brain Trust
At 81 years old, former Federal Reserve chairman Paul Volcker is getting a second chance to shape his legacy with a presidential hopeful more than 30 years his junior.
Boston Globe: Arab-Americans yearning
This is a city whose streets were paved for Fords. There is a Ford library, and a Ford museum; a Ford performing arts center, and a Ford Road. And then, of course, there are the factories, and the offices, all Ford.
AP: `Anti-American' comments hurt Minn. rep's campaign
Republican Rep. Michele Bachmann spent months building her profile through appearances on "Larry King Live" and other TV talk shows. It took only a few minutes of airtime, and one disparaging remark about Barack Obama, to undo it.
AP: McCain has $47 million to spend in October
With Democrat Barack Obama holding a clear financial advantage, Republican John McCain is fine tuning his advertising message and increasing his television spots going into the final two weeks of a presidential contest that is shattering spending records.
Miami Herald: Russians say 'nyet' to McCain fundraising appeal
The Russians have turned down John McCain's request for campaign money – and had a bit of a laugh at his expense.
Seattle Times: Sorry, Ralph! "Nader" misspelled on ballots
Clark County Auditor Greg Kimsey still hears from nostalgists who miss casting votes in a booth in a school gymnasium. (…)"I told them there's no such thing as a perfect election," he said.