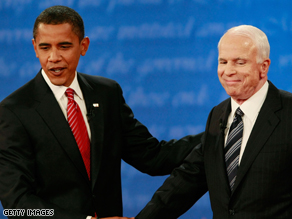 NEW YORK (CNNMoney.com) - In his Democratic convention acceptance speech sixteen years ago, Bill Clinton declared that as one of the first initiatives of his administration, he would "take on the health care profiteers and make health care affordable for every family."
Two years later, his "Health Security Act" was dead, never having gotten even as far as a vote in Congress.
Nearly two decades of soaring premiums and reduced coverage later, health care is again at the top of the reform agenda in Washington. Barack Obama and John McCain have each issued their own plans for sweeping reform: Obama's would rely on a new National Health Insurance Exchange to allow more businesses and individuals to access cheaper pool coverage, while McCain's would replace the tax deductibility of employer-sponsored coverage with a flat-rate $2,500 per person, per year tax break to be used toward health insurance.