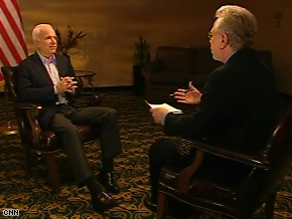 Wolf Blitzer interviewed John McCain Wednesday. The full interview will air at 6 p.m. ET in The Situation Room.
MANCHESTER, New Hampshire (CNN) - Republican presidential candidate John McCain said Wednesday he would consider a second economic stimulus package if he is elected president.
He attacked Barack Obama, his Democratic rival for the White House, for saying that "when you spread
the wealth around, it's good for everybody."
"That is "certainly not something I would ever do," he said in an interview with CNN's Wolf Blizter that is to air on "The Situation Room" at 6 p.m. ET.
Watch: 'I've been tested,' McCain says
Obama made the comment as he defended his proposal to raise taxes on couples earning more than $250,000 a year while cutting taxes for those with lower incomes.
McCain contended that Obama has been "all over the place" with his economic proposals.